Oral cancer
Overview 
The most common oral cancer is malignant liposarcoma, a rare and extremely aggressive type of sarcoma usually found in children or young adults that typically affects the lips. Other types include squamous cell carcinoma and leiomyosarcomas (cancer of smooth muscle). The tongue, cheeks, floor of the mouth, hard. Lips, tongue, cheeks, floor of the mouth, hard and soft palate, sinuses, and pharynx are all examples of oral cancer. It can be deadly if not identified and treated promptly.
Oral cancer is easier to treat when it is caught early. However, most people do not get a diagnosis until the cancer is too advanced to be effectively treated. If you see your dentist or doctor regularly and learn how to spot suspicious changes, you will be more likely to get an early diagnosis.
Which part is more likely to develop in the oral cavity?
Lips.
Gums.
Inside the lining of cheeks.
The first two-thirds of your tongue.
The floor of your mouth (the part under your tongue).
The first part of the roof of the mouth.
The area right behind your wisdom teeth.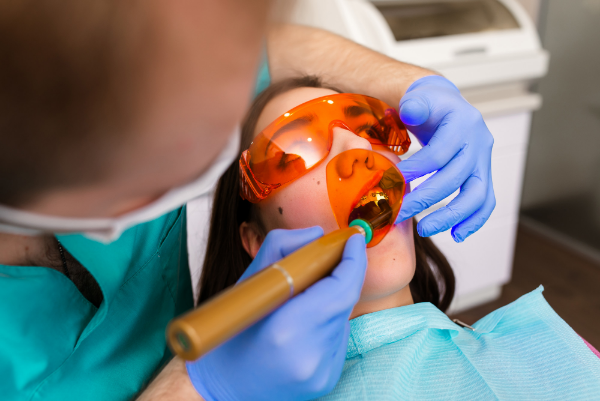 What Are the Signs of Oral Cancer?
The following are the most frequent signs of oral cancer:
Swellings/thickenings, lumps or bumps, rough spots/crusts/or eroded areas on the lips, gums, cheek, or other areas inside the mouth
Velvety white, red, or speckled (white and red) patches in the mouth
Mouth bleeding that is not explained
Unintended numbness, loss of feeling, or discomfort/tenderness in any part of the face, mouth, or neck
Within two weeks of starting treatment, these pustules or sores frequently require additional therapy.
A discomfort or the sensation that something is caught in the back of the throat
Difficulty chewing, swallowing, talking, or moving the jaw or tongue
Hoarseness, persistent sore throat, or a change in voice G
Ear discomfort/ pain
You might feel discomfort or have problems putting your dentures in.
A shift in the way your teeth or dentures fit together
It's possible to reduce your weight dramatically.
If you notice any of these changes, contact your dentist or health care professional immediately.
Who Is At The Risk for Developing Oral Cancer?
Overall, oral cancer affects around 11 people per 100,000 people in the United States. Men are more likely than women to get it. Oral cancer is more common among white people than black people.
Men are twice more likely than women to get oral cancer, according to the American Cancer Society. Men who are over 50 have the greatest chance of developing the disease. In 2019, it is expected that over 50,000 individuals in the United States will be diagnosed with oral cancer.
Oral cancer is caused by a variety of factors, including:
Smoking is linked to an increased incidence of oral cancers. Oral cancer patients are six times more likely than nonsmokers to have smoked cigarettes, cigars, or pipes.
The use of smokeless tobacco products is linked to a number of mouth and throat cancers, as well as esophageal cancer. Chewing tobacco users have a 50 times higher chance of developing cheek, gum, and lip tumors.
Excessive drinking. In comparison to non-drinkers, oral malignancies are six times more common among alcohol users. The combination of smoke and alcohol raises the risk even higher.
Individuals who carry a mutation in the TP53 gene are more prone to developing cancer.
Excessive sun exposure, especially in the early years. Sunlight is a source of several skin cancers.
Human papillomavirus (HPV). Several types of HPV are etiological risk factors for Oropharyngeal Squamous Cell Carcinoma (OSCC), including some strains. HPV is a sexually transmitted disease that affects almost everyone who has sex.
Oral cancer usually takes years to develop. Oral cancers are generally discovered after the age of 55. However, more youngsters are now being diagnosed with HPV-related malignancies.
Oral cancer is most common in men, and it affects them far more often. Men are at least twice as likely to get oral cancer as women. It's possible that because men smoke and consume more tobacco than women, they are more prone to develop the disease.
A poor diet has been linked to oral cancer. Vegetables and fruits have been shown in research to have a link with not eating enough of them.
It's critical to note that 25% of all oral cancer cases are in non-smokers who only consume alcohol occasionally.
Conditions' signs and symptoms of oral cavity cancer
If you have any of the following signs and symptoms, they will appear as patches in your mouth and throat, although they are various hues. Here's more information:
Leukoplakia: On the other hand, these are flat white or gray patches in your mouth or throat.
Erythroplakia: These are red, slightly elevated or flat patches. When scratched, these patches may cause bleeding.
Erythroleukoplakias: These are red and white patches.
The most common symptoms of oral cavity cancer include:
Sores on your lip or inside your mouth that leak blood and don't heal in two weeks.
Scars, cracks, or rough patches on your lips, gums, or within your mouth.
Areas in your mouth that gush without apparent cause.
Numbness, pain, or tenderness in your face and neck or in your mouth that lasts for no apparent reason.
Swallowing, speaking, or moving your jaw or tongue is difficult.
Weight reduction without intentional.
Earache.
Chronic halitosis.
What Is the Prognosis for Those With Oral Cancer?
84% of people with early-stage oral cavity and pharynx cancer survive for at least five years. The 5-year survival rate drops to 65 percent if the tumor has spread to adjacent tissues, organs, or lymph nodes.
How is oral cancer diagnosed? 
During your regular dental visit, your dentist will do an oral cancer screening examination. Your dentist most likely has the best chance of detecting any malignancy and understands what a healthy mouth should look like. Starting at age 18 and continuing yearly if you smoke or have sex, experts recommend getting checked every year.
How do healthcare providers diagnose oral cancer?
During one of your regular checkups, your dentist may notice potential oral cancer. They might do follow-up tests or refer you to an oral and maxillofacial surgeon, or head and neck surgeon. Ear, nose, and throat (ENT) specialists are professionals who specialize in this area of medicine. The following are oral cancer tests:
Physical examination: A dentist or other dental professional will examine the entire inside of your mouth, as well as feel around it. They'll also check your head, face, and neck for indications of pre-cancer or cancer.
Brush biopsy also called scrape biopsy or exfoliative cytology: Healthcare experts use a tiny brush or spatula to carefully scrape the afflicted region, allowing them to examine cancerous cells.
Incisional biopsy: To examine cells for cancer by your doctor, a small amount of tissue will be removed.
Indirect laryngoscopy and pharyngoscopy: Your doctor will look at the base of your tongue, a portion of your larynx (voice box), and the back of your throat with a tiny mirror on a long thin handle.
Direct (flexible) pharyngoscopy and laryngoscopy: Endoscopes are thin, flexible tubes with a built-in light and viewing lens that may be inserted into your throat and mouth.
Treatment options for oral cancer?
Surgery is sometimes used in conjunction with other therapies, including:
Radiation therapy: Antineoplaston therapy is a type of radiation therapy that destroys cancer cells or prevents them from developing by using strong beams of energy. Radiation treatment may be combined with other therapies, depending on your needs.
Targeted therapy: Chemotherapy treatment for various types of cancer that is currently being studied in clinical trials is immunotherapy. It involves the use of drugs or other substances to specifically identify and destroy specific sorts of cancer cells without injuring normal cells. Monoclonal antibodies are immune system proteins produced in a laboratory and used to treat cancer.
Chemotherapy: Chemoprevention medications may include anti-cancer drugs that kill cancer cells and therapies that target almost the entire body.
Immunotherapy: Immunotherapy is a process that harnesses your immune system to combat cancer. Biological therapy is one of the various names for this treatment.
Are there oral cancer stages?
The stage of the disease is determined by diagnostic tests. A stage describes where cancer has spread, whether it has grown or penetrated the surface of the region where it was discovered. Tests also look for signs that cancer has moved to other parts of your body. Staging information is used by healthcare professionals to suggest therapy and forecast chances of cure.
Tumors are classified according to the TNM system when it comes to oral cancers. The T in TNM stands for tumor size and location. If the tumor has spread to your lymph nodes, N is indicated. M indicates whether or not cancer has metastasized, or spread to other parts of your body.
Are you experiencing the early signs of oral cancer?
Dentulu has a wide range of top dentists on the application that you may connect to via video/audio call. You may make an appointment with a dentist of your choosing, get a second opinion, and send photographs for diagnosis using Dentulu. Dentulu is revolutionizing the way people interact with dentists and obtain dental treatment.
Advantages of using Dentulu:
You can consult with the best dentist in the USA without having to leave your home or office.
You don't have to take time off from work or school to see a dentist.
You can get a consultation at any time of day or night.
You don't have to wait in line at a dental office.
There is no need to be concerned about traffic or getting a parking place.
You may schedule an appointment for a face-to-face consultation from the convenience of your own home.
What are the steps involved in the Dentulu teledentistry consultation?
The first step is to download the Dentulu app and create an account.
Then, you will need to choose a dentist from our network of top dentists in the USA.
Once you have chosen a dentist, you will be able to schedule a video or audio consultation.
During the consultation, your dentist will be able to assess your gum disease and recommend a treatment plan.
After the consultation, you will be able to book an appointment with your dentist if you wish to proceed with treatment.
Dentulu is the best teledentistry application to get professional advice on treating gum disease. We offer convenient consultations with top dentists in the USA with the best dentists nearby.
We offer affordable dental consultations that can be done from the comfort of your own home using your smartphone or laptop Schedule a consultation today to get started on your road to recovery. So why wait! download Dentulu now and get started on your road to recovery!