Overview
The most prevalent form of oral cancer is malignant liposarcoma, an exceptionally aggressive and rare type of sarcoma primarily affecting children and young adults. It predominantly manifests on the lips. Other variants include squamous cell carcinoma and leiomyosarcomas, which impact the smooth muscle. Oral cancer can affect various areas, including the tongue, cheeks, floor of the mouth, hard and soft palate, sinuses, and pharynx. Timely identification and treatment are crucial as it can be fatal if left undetected and untreated.
Early detection significantly improves the chances of successful oral cancer treatment. Unfortunately, many individuals receive a diagnosis only when the cancer has progressed to an advanced stage, making treatment less effective. Regular visits to your dentist or doctor and developing awareness of suspicious changes in your oral cavity can increase the likelihood of an early diagnosis. By staying proactive, you can enhance your chances of timely intervention and better outcomes in managing oral cancer.
Most Common Areas to Find Oral Cancer
Lips.
Gums.
Inside the lining of cheeks.
The first two-thirds of your tongue.
The floor of your mouth (the part under your tongue).
The hard and soft palate (roof of the mouth).
The area right behind your wisdom teeth.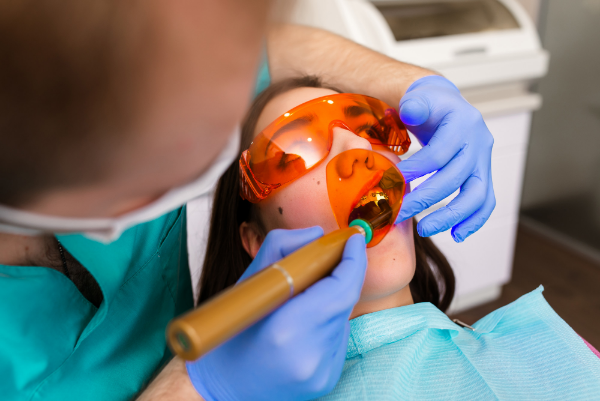 Common Signs and Symptoms of Oral Cancer
Persistent mouth sores or ulcers that do not heal
Red or white patches on the gums, tongue, tonsils, or other areas of the mouth
Unexplained bleeding in the mouth
Difficulty or pain when swallowing or chewing
Chronic sore throat or hoarseness
Numbness or tingling sensation in the mouth or lips
Changes in voice or speech
Swelling or lumps in the mouth, throat, or neck
Dramatic weight loss without apparent cause
Persistent bad breath
Loose teeth without any clear dental cause
It's important to note that these signs and symptoms can also indicate other non-cancerous conditions. However, if you experience any of these persistent symptoms, it is advisable to consult a healthcare professional for a proper evaluation and diagnosis.
Who Is At The Risk for Developing Oral Cancer?
Oral cancer affects approximately 11 individuals per 100,000 people in the United States. Men are more likely than women to develop oral cancer, according to the American Cancer Society. Men who are over 50 have a higher risk of developing the disease. It is estimated that over 50,000 individuals in the United States will be diagnosed with oral cancer in 2019.
It is important to note that oral cancer can occur in people of all races and ethnicities, and the prevalence can vary among different populations. While some studies have suggested higher incidence rates among specific racial and ethnic groups, it is crucial to understand that individual risk factors, such as tobacco and alcohol use, HPV infection, age, and overall health, play a significant role in the development of oral cancer.
Regular oral screenings, adopting a healthy lifestyle, and maintaining good oral hygiene practices are essential for everyone, regardless of race or ethnicity, to detect oral cancer at an early stage and increase the chances of successful treatment.
Oral cancer is caused by a variety of factors, including:
Several factors can increase an individual's risk of developing oral cancer. These include:
Tobacco and alcohol use: Smoking or chewing tobacco and excessive alcohol consumption are significant risk factors for oral cancer. The risk is even higher for those who both smoke and drink heavily.
Additionally, the use of smokeless tobacco products is linked to a number of mouth and throat cancers, as well as esophageal cancer. Chewing tobacco users have a 50 times higher chance of developing cheek, gum, and lip tumors.
Human papillomavirus (HPV) infection: Certain strains of HPV, particularly HPV-16 and HPV-18, are linked to an increased risk of oral cancer. This risk is more prevalent among younger individuals.
Age: The risk of oral cancer increases with age, with most cases diagnosed in individuals over 40 years old.
Gender: Men are more susceptible to oral cancer than women.
Genetics: Individuals who carry a mutation in the TP53 gene are more prone to developing cancer.
Sun exposure: Prolonged and unprotected exposure to the sun can increase the risk of lip cancer.
Poor oral hygiene: Neglecting proper oral hygiene, including infrequent brushing and flossing, may contribute to the development of oral cancer.
Diet: A diet lacking in fruits and vegetables may elevate the risk of oral cancer.
Weakened immune system: Individuals with compromised immune systems, such as those with HIV/AIDS or organ transplant recipients, have a higher susceptibility to oral cancer.
Family history: Having a close relative who has had oral cancer increases the risk.
It's important to note that while these factors increase the likelihood of developing oral cancer, it doesn't guarantee the development of the disease. Regular dental check-ups and early detection play a crucial role in managing and treating oral cancer effectively.
Signs and Symptoms of Oral Cavity Cancer
If you experience any of the following signs and symptoms, they may appear as patches in your mouth and throat, varying in color. Here are the details:
Leukoplakia: These are flat patches in your mouth or throat that appear white or gray.
Erythroplakia: These patches are red, slightly raised or flat, and may bleed when scraped.
Erythroleukoplakias: These patches show a combination of red and white colors.
The most common symptoms associated with oral cavity cancer include:
Persistent sores on your lip or inside your mouth that do not heal within two weeks and may bleed.
Scarring, cracks, or rough patches on your lips, gums, or inside your mouth.
Spontaneous bleeding from areas in your mouth without an apparent cause.
Numbness, pain, or tenderness in your face, neck, or mouth without an identifiable reason.
Swallowing, speaking, or moving your jaw or tongue is difficult.
Difficulty in swallowing, speaking, or moving your jaw or tongue. Unintentional weight loss.
Earache.
Chronic bad breath (halitosis).
It's important to note that if you experience any of these signs or symptoms, it's advisable to consult with a healthcare professional or dentist for a proper evaluation and diagnosis. Early detection and timely treatment can significantly improve the prognosis of oral cavity cancer.
What Is the Prognosis for Those With Oral Cancer?
The prognosis for oral cancer depends on several factors, including the stage of the cancer, the location of the tumor, overall health, and response to treatment. Early detection plays a crucial role in improving prognosis, as it allows for timely treatment and better outcomes. In the early stages, when the cancer is localized, treatment options like surgery, radiation therapy, and chemotherapy can be effective in achieving successful results.
However, if oral cancer is diagnosed at a later stage when it has spread to nearby lymph nodes or other distant organs, the prognosis may be less favorable. Advanced stages of oral cancer are associated with a higher risk of recurrence, metastasis, and lower survival rates. Treatment for advanced oral cancer may involve a combination of surgery, radiation therapy, chemotherapy, targeted therapies, or immunotherapy.
Regular monitoring, follow-up care, and adopting preventive measures are essential for individuals with oral cancer. By working closely with healthcare professionals and maintaining good oral hygiene, patients can improve their chances of early detection, successful treatment, and better long-term prognosis.
84% of people with early-stage oral cavity and pharynx cancer survive for at least five years. The 5-year survival rate drops to 65 percent if the tumor has spread to adjacent tissues, organs, or lymph nodes.
How is oral cancer diagnosed?
During your regular dental visit, your dentist will do an oral cancer screening examination. Your dentist most likely has the best chance of detecting any malignancy and understands what a healthy mouth should look like. Starting at age 18 and continuing yearly if you smoke or have sex, experts recommend getting checked every year.
How do healthcare providers diagnose oral cancer?
During one of your regular checkups, your dentist may notice potential oral cancer. They might do follow-up tests or refer you to an oral and maxillofacial surgeon, or head and neck surgeon. Ear, nose, and throat (ENT) specialists are professionals who specialize in this area of medicine. The following are oral cancer tests:
Physical examination: A dentist or other dental professional will examine the entire inside of your mouth, as well as feel around it. They'll also check your head, face, and neck for indications of pre-cancer or cancer.
Brush biopsy also called scrape biopsy or exfoliative cytology: Healthcare experts use a tiny brush or spatula to carefully scrape the afflicted region, allowing them to examine cancerous cells.
Incisional biopsy: To examine cells for cancer by your doctor, a small amount of tissue will be removed.
Indirect laryngoscopy and pharyngoscopy: Your doctor will look at the base of your tongue, a portion of your larynx (voice box), and the back of your throat with a tiny mirror on a long thin handle.
Direct (flexible) pharyngoscopy and laryngoscopy: Endoscopes are thin, flexible tubes with a built-in light and viewing lens that may be inserted into your throat and mouth.
Treatment options for oral cancer?
Surgery is sometimes used in conjunction with other therapies, including:
Radiation therapy: Antineoplaston therapy is a type of radiation therapy that destroys cancer cells or prevents them from developing by using strong beams of energy. Radiation treatment may be combined with other therapies, depending on your needs.
Targeted therapy: Chemotherapy treatment for various types of cancer that is currently being studied in clinical trials is immunotherapy. It involves the use of drugs or other substances to specifically identify and destroy specific sorts of cancer cells without injuring normal cells. Monoclonal antibodies are immune system proteins produced in a laboratory and used to treat cancer.
Chemotherapy: Chemoprevention medications may include anti-cancer drugs that kill cancer cells and therapies that target almost the entire body.
Immunotherapy: Immunotherapy is a process that harnesses your immune system to combat cancer. Biological therapy is one of the various names for this treatment.
Are there oral cancer stages?
The combination of these factors determines the overall stage of oral cancer, ranging from Stage 0 (carcinoma in situ, where abnormal cells are present but have not invaded surrounding tissues) to Stage IV (advanced cancer with extensive local invasion and/or distant metastasis). The staging system helps healthcare professionals assess the severity of the disease, plan appropriate treatments, and provide prognostic information to patients.
It's important to note that staging is typically determined through a combination of physical examinations, imaging tests, and sometimes biopsies. The specific staging process may vary depending on the healthcare provider and the individual case.
Are you experiencing the early signs of oral cancer?
If you are concerned about potential signs or symptoms of cancer, it is crucial to consult with a healthcare professional. They can evaluate your symptoms, perform necessary tests, and provide an accurate diagnosis. Early detection and timely intervention greatly increase the chances of successful treatment and improved outcomes. Remember, only a qualified healthcare professional can provide a proper assessment and guide you through the appropriate steps based on your specific situation. It's important not to self-diagnose or rely solely on online information. Reach out to a healthcare professional for personalized care and guidance.
Dentulu has a wide range of top dentists on the application that you may connect to via video/audio call. You may make an appointment with a dentist of your choosing, get a second opinion, and send photographs for diagnosis using Dentulu. Dentulu is revolutionizing the way people interact with dentists and obtain dental treatment.
Advantages of using Dentulu:
Using Dentulu for preventive oral cancer needs offers several advantages:
Convenience: Dentulu provides virtual consultations, allowing you to conveniently connect with licensed dentists from the comfort of your own home. This eliminates the need for in-person visits and reduces travel time and expenses.
Timely screenings: Dentulu enables you to schedule regular screenings and check-ups to detect early signs of oral cancer. Early detection significantly increases the chances of successful treatment and improved outcomes.
Expert guidance: Dentulu connects you with experienced and knowledgeable dentists who specialize in oral health. They can provide personalized recommendations, educate you about preventive measures, and guide you on self-examinations to monitor for any changes in your oral health.
Access to specialized care: Dentulu can help you connect with oral medicine specialists or oncologists who have expertise in diagnosing and treating oral cancer. They can provide comprehensive care, including further evaluation, biopsies, and referral to appropriate specialists if necessary.
Health records management: Dentulu securely stores your dental health records, including any oral cancer screenings or evaluations. This allows for easy access to your complete oral health history and facilitates continuity of care.
By utilizing Dentulu for preventive oral cancer needs, you can take a proactive approach to your oral health, receive expert guidance, and potentially detect any issues at an early stage. Regular screenings and consultations with dentists through Dentulu can play a crucial role in maintaining optimal oral health and reducing the risk of developing oral cancer.
We offer affordable dental consultations that can be done from the comfort of your own home using your smartphone or laptop Schedule a consultation today to get started on your road to recovery. So why wait! download Dentulu now and get started on your road to recovery!