Sleep apnea is a common sleep disorder that affects millions of people around the world. It is characterized by pauses in breathing or shallow breaths during sleep. This condition can significantly impact an individual's quality of life, leading to daytime drowsiness, fatigue, and increased health risks. Fortunately, Dentulu, offers innovative solutions to help individuals suffering from sleep apnea.
In this blog, we will explore how Dentulu can assist in diagnosing and treating sleep apnea, the effectiveness of mandibular advancement devices (MAD devices), the convenience of Dentulu's at-home impression kits, common signs and symptoms of sleep apnea, and other valuable information to help you find relief and achieve restful nights.
Understanding Sleep Apnea
Sleep apnea occurs when the muscles in the throat relax during sleep, causing the upper airway to become partially or completely blocked during sleep, resulting in disrupted breathing patterns. This can lead to pauses in breathing that can last for several seconds, resulting in a drop in oxygen levels in the blood. When the brain detects this drop in oxygen, it sends a signal to the body to wake up and take a deep breath, often without the person even realizing it. These interruptions in sleep can occur hundreds of times a night, preventing individuals from reaching the deep, restorative stages of sleep as well as a variety of other health problems. Dentulu recognizes the impact of sleep apnea on overall well-being and offers comprehensive solutions to alleviate the symptoms and improve sleep quality.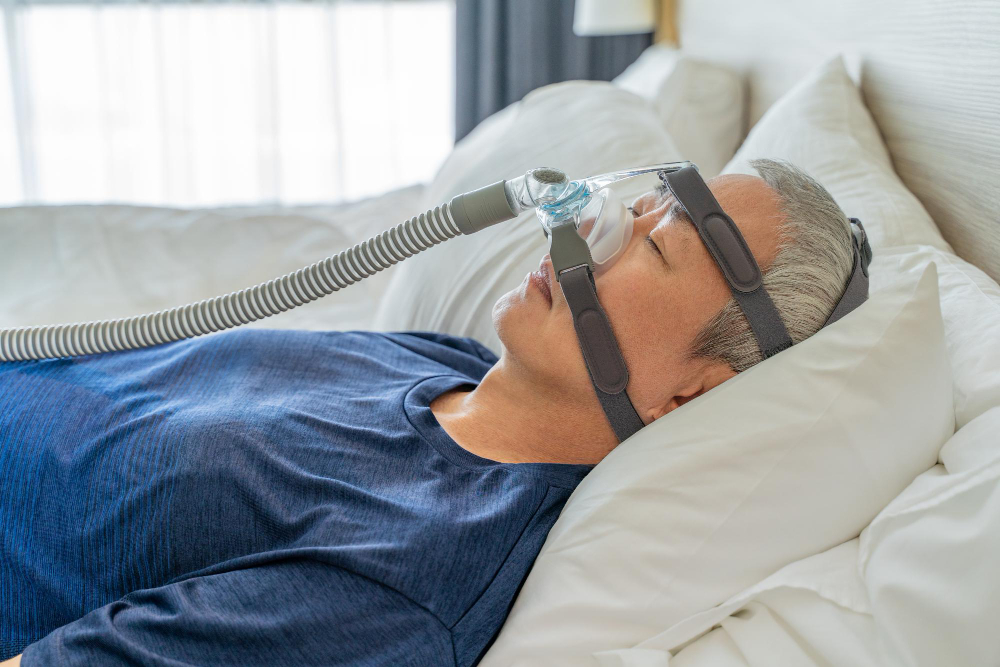 Types of Sleep Apnea
There are two main types of sleep apnea: obstructive sleep apnea (OSA) and central sleep apnea (CSA).
1. Obstructive Sleep Apnea
Obstructive sleep apnea (OSA) is the most common type of sleep apnea, affecting around 4% of men and 2% of women. It occurs when the muscles in the throat relax and block the airway during sleep, causing pauses in breathing.
2. Central Sleep Apnea
Central sleep apnea (CSA) is a less common type of sleep apnea that occurs when the brain fails to send the proper signals to the muscles that control breathing during sleep. This can result in pauses in breathing that can last for several seconds, causing a drop in oxygen levels in the blood.
Recognizing the Signs and Symptoms
Identifying the signs and symptoms of sleep apnea is crucial for early detection and timely treatment.
The most common symptom of sleep apnea is snoring. However, not everyone who snores has sleep apnea, and not everyone with sleep apnea snores. Other symptoms of sleep apnea include:
Pauses in breathing during sleep
Abrupt awakenings accompanied by gasping or choking
Excessive daytime sleepiness or fatigue
Morning headaches
Memory or concentration problems
Irritability or mood changes
Decreased libido
Dentulu's comprehensive approach emphasizes the importance of patient education, ensuring individuals are aware of these indicators and empowered to seek appropriate care.
How Sleep Apnea Can Affect Regular Life
Sleep apnea can have a significant impact on a person's quality of life. The interrupted sleep can lead to daytime fatigue, which can affect performance at work or school and increase the risk of accidents. It can also lead to mood changes, such as irritability or depression, and can strain relationships with family members or partners who may be disturbed by the snoring and interruptions in breathing.
Over time, sleep apnea can also lead to more serious health problems, including high blood pressure, heart disease, stroke, and diabetes. It is important to seek treatment for sleep apnea to manage these risks and improve overall health and well-being.
Start Sleep Assessment
Diagnosis and Treatment with Dentulu
Dentulu plays a vital role in the diagnosis and treatment of sleep apnea. Through our platform, individuals can connect with licensed dentists who specialize in sleep medicine. Dentulu's advanced telemedicine technology enables convenient virtual consultations, where patients can discuss their symptoms, medical history, and concerns with a sleep specialist. Dentulu's dentists can then recommend the appropriate course of action, which may include an at-home sleep study or referral to a sleep clinic for further evaluation.
Mandibular Advancement Devices (MAD Devices)
One effective treatment option for sleep apnea is the use of MAD devices. These custom-fitted oral appliances are designed to position the lower jaw slightly forward during sleep, which helps to keep the airway open and reduce breathing obstructions. Dentulu simplifies the process by providing at-home impression kits, allowing individuals to take their own dental impressions in the comfort of their home. The impressions are then sent to Dentulu, where custom-made MAD devices are created and delivered directly to the patient's door.
Other Frequently Recommended Treatment Options for Sleep Apnea Include:
Lifestyle Changes
Lifestyle changes, such as losing weight, quitting smoking, and avoiding alcohol and sedatives before bed, can help reduce the severity of sleep apnea and improve sleep quality.
Continuous Positive Airway Pressure (CPAP) Machines
CPAP machines are the most common treatment for sleep apnea and involve wearing a mask over the nose and/or mouth during sleep, which delivers a continuous stream of air pressure to keep the airway open. While effective, these machines can be bulky and uncomfortable, which can lead to poor compliance and treatment dropout.
Teledentistry for Sleep Apnea Treatment
Teledentistry is a new approach to healthcare that uses technology to connect patients with healthcare providers remotely. With Dentulu, patients can access sleep apnea treatment from the comfort of their own home, without the need to visit a physical office.
In addition to diagnosis and treatment, Dentulu provides a wealth of information and resources to support individuals on their sleep apnea journey. Our platform offers educational materials, expert advice, and access to a network of sleep specialists and dental professionals specializing in sleep medicine. Dentulu's commitment to patient care extends beyond the initial consultation, fostering ongoing support and guidance for improved sleep health.
Dentulu's Sleep Apnea Services
Dentulu's sleep apnea services include a comprehensive evaluation of the patient's sleep history and symptoms, a home sleep study to diagnose sleep apnea, and customized treatment plans that may include oral appliances, lifestyle modifications, or referral for CPAP therapy. Patients can also access monitoring and follow-up care through the Dentulu platform, which allows them to track their progress and make adjustments to their treatment plan as needed.
Benefits of Teledentistry for Sleep Apnea Treatment
Teledentistry offers several benefits for sleep apnea treatment, including:
Convenience: Patients can access sleep apnea treatment from anywhere, at any time, without the need to visit a physical office.
Comfort: Oral appliances are a more comfortable and portable alternative to traditional CPAP machines, making them a popular option for people with sleep apnea.
Accessibility: Teledentistry makes sleep apnea treatment more accessible to people who live in remote or underserved areas, or who have mobility or transportation issues.
Cost-effective: Teledentistry can be more cost-effective than traditional in-person healthcare services, as it eliminates the need for office visits and reduces healthcare-related travel expenses.
Conclusion
Sleep apnea can significantly impact one's quality of life, but with Dentulu's innovative solutions, relief and restful nights are within reach. By leveraging telemedicine technology, Dentulu connects individuals with experienced sleep specialists who can diagnose and guide them through their treatment options. With the convenience of at-home impression kits and the effectiveness of mandibular advancement devices, Dentulu streamlines the process and ensures personalized, comfortable solutions for sleep apnea. Take control of your sleep health and discover the transformative effects of Dentulu's comprehensive approach to sleep apnea care.
Remember, quality sleep is the foundation of overall well-being. Embrace Dentulu's expertise and innovative solutions to reclaim your restful nights and wake up refreshed, revitalized, and rejuvenated.