What is an endodontist?
Endodontists are dentists who specialize in diagnosing and treating tooth pain, disease, and infection. They have extra training that helps them perform root canals, a special procedure designed to save an infected or decayed tooth.
What Does an Endodontist Do?
An endodontist is a specialist who treats problems with the inside of the tooth, known as the "tooth pulp." This area contains blood vessels, nerves, and connective tissue. It can become inflamed or infected due to deep tooth decay, a traumatic injury to the tooth, or repeated dental work on the tooth. If left untreated, the pulp will become painful and the tooth will eventually die. A root canal is the most common procedure performed by an endodontist. This involves removing the damaged or infected nerve and tooth pulp. Dentists can also perform root canals, but endodontists have more experience with this procedure.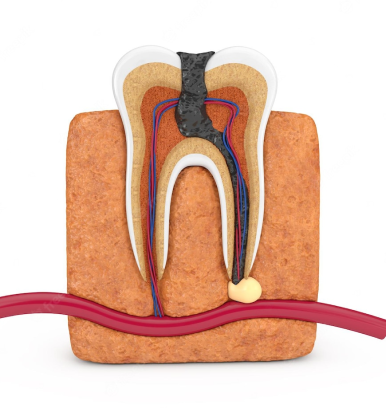 Education and Training
Endodontists are dentists who have specialized in diagnosing and treating tooth pain. They have had two or three more years of training beyond dental school, during which they focus on endodontics. They may also receive a Master of Science in Dentistry.
This process involves completing
Four years in dental school

Two to three years in a post-graduate residency program

An exam to become certified by the American Board of Endodontics
Reasons to See an Endodontist
Your general dentist may refer you to an endodontist for a few common reasons:
Tooth pain and sensitivity to heat and cold.
If bacteria gets into the pulp of a tooth through small openings, it can cause inflammation or a bacterial infection. This is the most common reason people see an endodontist.
If you have a tooth that has been knocked out of its socket or is otherwise injured, an endodontist may be able to save the tooth by placing it back in the socket and stabilizing it. In many cases, a root canal will also be necessary.
If a large section of your tooth is missing, you may need a root canal to protect the exposed pulp from bacteria.
What to Expect at the Endodontist
You will likely need to see an endodontist to get a root canal. Here is what you can expect during the visit: you will be given a local anesthetic to numb the mouth so you don't feel pain during the procedure. A dental dam will be placed around the tooth, and the endodontist will open the crown of the tooth to remove the pulp. They will then clean, reshape, and enlarge the root canal with small files. The endodontist may also apply medicine to the area to stop an infection. They will fill the root canal with a rubber substance that acts as a bandage, and then fill the tooth opening with a temporary crown or filling. After the procedure, you may feel mild pain. Over-the-counter pain relievers should help. You will return to the endodontist at a later date to have them remove the temporary crown or filling and fit you with a permanent one.
References
Papaspyridakos P, Mokti M, Chen CJ, Benic GI, Gallucci GO, Chronopoulos V (October 2014). "Implant and prosthodontic survival rates with implant fixed complete dental prostheses in the edentulous mandible after at least 5 years: a systematic review". Clinical Implant Dentistry and Related Research. 16 (5): 705–17. doi:10.1111/cid.12036. PMID 23311617.
Berglundh T, Persson L, Klinge B (2002). "A systematic review of the incidence of biological and technical complications in implant dentistry reported in prospective longitudinal studies of at least 5 years". Journal of Clinical Periodontology. 29 Suppl 3 (Suppl 3): 197–212, discussion 232–3. doi:10.1034/j.1600-051X.29.s3.12.x. PMID 12787220.
Pjetursson BE, Thoma D, Jung R, Zwahlen M, Zembic A (October 2012). "A systematic review of the survival and complication rates of implant-supported fixed dental prostheses (FDPs) after a mean observation period of at least 5 years". Clinical Oral Implants Research. 23 Suppl 6: 22–38. doi:10.1111/j.1600-0501.2012.02546.x. PMID 23062125.
Bozini T, Petridis H, Garefis K, Garefis P (2011). "A meta-analysis of prosthodontic complication rates of implant-supported fixed dental prostheses in edentulous patients after an observation period of at least 5 years". The International Journal of Oral & Maxillofacial Implants. 26 (2): 304–18. PMID 21483883.
Simonis P, Dufour T, Tenenbaum H (July 2010). "Long-term implant survival and success: a 10-16-year follow-up of non-submerged dental implants". Clinical Oral Implants Research. 21 (7): 772–7. doi:10.1111/j.1600-0501.2010.01912.x. PMID 20636731.
Chappuis V, Buser R, Brägger U, Bornstein MM, Salvi GE, Buser D (December 2013). "Long-term outcomes of dental implants with a titanium plasma-sprayed surface: a 20-year prospective case series study in partially edentulous patients". Clinical Implant Dentistry and Related Research. 15 (6): 780–90. doi:10.1111/cid.12056. PMID 23506385."Dental Implants: Medical Review USA". 2021-08-18. Archived from the original on 2021-11-17. Retrieved 2021-11-17.
Misch CE (2007). Contemporary Implant Dentistry. St. Louis, Missouri: Mosby Elsevier. Elani HW, Starr JR, Da Silva JD, Gallucci GO (December 2018). "Trends in Dental Implant Use in the U.S., 1999-2016, and Projections to 2026". Journal of Dental Research. 97 (13): 1424–1430. doi:10.1177/0022034518792567. PMC 6854267. PMID 30075090.
Palmer, R. (2008). A clinical guide to implants in dentistry. Palmer, Paul J., Howe, Leslie C., British Dental Association. (2nd ed.). London: British Dental Association. ISBN 978-0-904588-92-7. OCLC 422757942.
Sinn DP, Bedrossian E, Vest AK (May 2011). "Craniofacial implant surgery". Oral and Maxillofacial Surgery Clinics of North America. 23 (2): 321–35, vi–vii. doi:10.1016/j.coms.2011.01.005. PMID 21492804.