Medicaid
The ADA Health Policy Institute (HPI) reports that 31.3% of people enrolled in Medicaid were unsure of their dental benefits while on Medicaid, while 37.7% of those had a false understanding of what their benefits actually were in their designated state.
This lack of awareness among those on Medicaid in regards to dental benefits is common. This blog throws light on the factuals that you need to know about medicaid dentistry. Let's dive!
Do you know what medicaid is?
The Medicaid program provides health insurance coverage for low-income individuals and families. In order to qualify for Medicaid, your income must be below a set amount. The program was originally designed to provide coverage for low-income families with children, pregnant women, the elderly with a lot of medical needs, and people with disabilities.
The services that are covered by Medicaid vary from state to state, but there are some basic services that are included in every state's coverage. These services include hospital care, health care for children, and dental care for children. You may have to pay a small fee for Medicaid coverage and services, depending on the state you live in.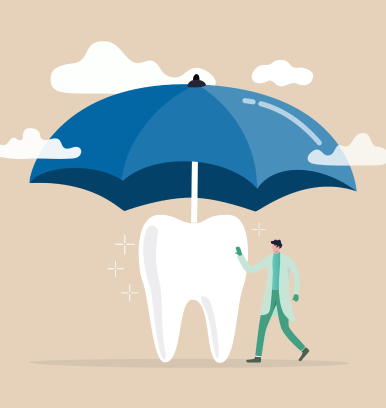 How much do Medicaid programs cost in total?
The cost of a Medicaid program varies depending on the state. In some cases, program participants may be required to make a small co-payment or pay a small premium for medical services in addition to what Medicaid pays.
What Does Medicaid Cover?
Medicaid programs generally cover hospital stays, visits to doctors, tests, some home medical care, and more. However, the specifics vary from state to state.
Other Things That You Need to Know About Medicaid?
If you are eligible for both Medicare and Medicaid, you are considered a "dual eligible." This means that Medicaid may help pay for some of your Medicare fees.

If you qualify for both Medicare and Medicaid, and you enroll in a Medicare Prescription Drug Plan, then you may be eligible for help with your drug plan's monthly premium, deductible, and co-pays.

If you have children, they may be eligible for coverage under a separate program called the Children's Health Insurance Program (CHIP). You can find out if you qualify for CHIP through your state's Medicaid office or through HealthCare.gov.
Dental benefits of Medicaid
We found a few things you might not know about Medicaid dental benefits while digging through all the rules and regulations surrounding Medicaid. It would take the rest of the year to go through all of them.
How to Use Medicaid for Dental Costs?
If you want to receive dental care coverage through Medicaid, there are certain steps you need to follow. First, make sure that you meet all of the requirements for Medicaid coverage. Next, check to see if you qualify for dental care coverage under Medicaid. Finally, follow the instructions on how to apply for dental care coverage through Medicaid.
Schedule An Appointment With a Dentist
You should find a dental provider that is closest to you and that your Medicaid agency requires you to go through. Schedule an appointment using Dentulu for a dental checkup. Using Dentulu snaps out the time and money spend to find and visit a dentist. The app enables you to instantly schedule appointments with the nearest dentist 24/7. Download Dentulu now!
References
Papaspyridakos P, Mokti M, Chen CJ, Benic GI, Gallucci GO, Chronopoulos V (October 2014). "Implant and prosthodontic survival rates with implant fixed complete dental prostheses in the edentulous mandible after at least 5 years: a systematic review". Clinical Implant Dentistry and Related Research. 16 (5): 705–17. doi:10.1111/cid.12036. PMID 23311617.
Berglundh T, Persson L, Klinge B (2002). "A systematic review of the incidence of biological and technical complications in implant dentistry reported in prospective longitudinal studies of at least 5 years". Journal of Clinical Periodontology. 29 Suppl 3 (Suppl 3): 197–212, discussion 232–3. doi:10.1034/j.1600-051X.29.s3.12.x. PMID 12787220.
Pjetursson BE, Thoma D, Jung R, Zwahlen M, Zembic A (October 2012). "A systematic review of the survival and complication rates of implant-supported fixed dental prostheses (FDPs) after a mean observation period of at least 5 years". Clinical Oral Implants Research. 23 Suppl 6: 22–38. doi:10.1111/j.1600-0501.2012.02546.x. PMID 23062125.
Bozini T, Petridis H, Garefis K, Garefis P (2011). "A meta-analysis of prosthodontic complication rates of implant-supported fixed dental prostheses in edentulous patients after an observation period of at least 5 years". The International Journal of Oral & Maxillofacial Implants. 26 (2): 304–18. PMID 21483883.
Simonis P, Dufour T, Tenenbaum H (July 2010). "Long-term implant survival and success: a 10-16-year follow-up of non-submerged dental implants". Clinical Oral Implants Research. 21 (7): 772–7. doi:10.1111/j.1600-0501.2010.01912.x. PMID 20636731.
Chappuis V, Buser R, Brägger U, Bornstein MM, Salvi GE, Buser D (December 2013). "Long-term outcomes of dental implants with a titanium plasma-sprayed surface: a 20-year prospective case series study in partially edentulous patients". Clinical Implant Dentistry and Related Research. 15 (6): 780–90. doi:10.1111/cid.12056. PMID 23506385."Dental Implants: Medical Review USA". 2021-08-18. Archived from the original on 2021-11-17. Retrieved 2021-11-17.
Misch CE (2007). Contemporary Implant Dentistry. St. Louis, Missouri: Mosby Elsevier. Elani HW, Starr JR, Da Silva JD, Gallucci GO (December 2018). "Trends in Dental Implant Use in the U.S., 1999-2016, and Projections to 2026". Journal of Dental Research. 97 (13): 1424–1430. doi:10.1177/0022034518792567. PMC 6854267. PMID 30075090.
Palmer, R. (2008). A clinical guide to implants in dentistry. Palmer, Paul J., Howe, Leslie C., British Dental Association. (2nd ed.). London: British Dental Association. ISBN 978-0-904588-92-7. OCLC 422757942.
Sinn DP, Bedrossian E, Vest AK (May 2011). "Craniofacial implant surgery". Oral and Maxillofacial Surgery Clinics of North America. 23 (2): 321–35, vi–vii. doi:10.1016/j.coms.2011.01.005. PMID 21492804.