Oral Pathology
Oral pathology is any disease, abnormality or injury to the oral cavity, which includes the teeth, gums, lips, mucosa, perioral skin, tongue, salivary glands, jaws or facial muscles/joints. In other words, it is any issue with the mouth, head or neck.
What Do Oral Pathologists Do?
An oral pathologist is a dental professional who specializes in diagnosing and treating disorders that affect the mouth. As the mouth is a complex organ with many important functions, oral pathologists are trained to deal with a host of disorders. By catching developing oral problems early, oral pathologists make treatment as simple and effective as possible and prevent oral diseases from impacting other areas of the body.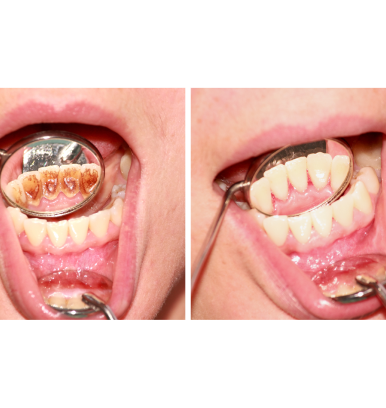 What Are the Signs of Oral Pathology?
There are general signs you can look for on your own that may indicate an oral pathological condition exists, such as mouth sores or changes in coloration. However, identifying the exact problem may require a visit to an oral pathologist, who may even need to take a biopsy sample.
Signs of oral pathology to look for during a self-examination include the following:
Any changes to the color or appearance of the lips, cheeks, palate, tongue, periodontal tissue, face, or neck.

The inside of a healthy mouth will have a smooth, pink mucosa lining, without any red or white patches or lumps.

Open sores or lesions that do not heal and/or bleed on occasion

There are a few signs that can indicate you have periodontal disease, which is a serious gum infection. These signs include inflamed gums that are sore or bleeding, as well as receding gum lines. Gingivitis is the mildest form of periodontal disease, but if left untreated, it can develop into a more serious infection called periodontitis. This can eventually lead to tooth loss and severe infections.

If you have a sore throat that does not go away, hoarse speech, or difficulty chewing and swallowing, you may have a chronic problem.
To check for signs of oral pathology, stand in front of a well-lit mirror and check your mouth from various angles. Pull back your lips/cheeks and feel the inside of your mouth with your fingers. The worst oral pathology diseases are lesions and mouth cancer, but even these can be treated if caught in the early stages. Periodontal disease and benign tumors are far more common, and a good oral pathologist can treat these diseases with relative ease.
References
Papaspyridakos P, Mokti M, Chen CJ, Benic GI, Gallucci GO, Chronopoulos V (October 2014). "Implant and prosthodontic survival rates with implant fixed complete dental prostheses in the edentulous mandible after at least 5 years: a systematic review". Clinical Implant Dentistry and Related Research. 16 (5): 705–17. doi:10.1111/cid.12036. PMID 23311617.
Berglundh T, Persson L, Klinge B (2002). "A systematic review of the incidence of biological and technical complications in implant dentistry reported in prospective longitudinal studies of at least 5 years". Journal of Clinical Periodontology. 29 Suppl 3 (Suppl 3): 197–212, discussion 232–3. doi:10.1034/j.1600-051X.29.s3.12.x. PMID 12787220.
Pjetursson BE, Thoma D, Jung R, Zwahlen M, Zembic A (October 2012). "A systematic review of the survival and complication rates of implant-supported fixed dental prostheses (FDPs) after a mean observation period of at least 5 years". Clinical Oral Implants Research. 23 Suppl 6: 22–38. doi:10.1111/j.1600-0501.2012.02546.x. PMID 23062125.
Bozini T, Petridis H, Garefis K, Garefis P (2011). "A meta-analysis of prosthodontic complication rates of implant-supported fixed dental prostheses in edentulous patients after an observation period of at least 5 years". The International Journal of Oral & Maxillofacial Implants. 26 (2): 304–18. PMID 21483883.
Simonis P, Dufour T, Tenenbaum H (July 2010). "Long-term implant survival and success: a 10-16-year follow-up of non-submerged dental implants". Clinical Oral Implants Research. 21 (7): 772–7. doi:10.1111/j.1600-0501.2010.01912.x. PMID 20636731.
Chappuis V, Buser R, Brägger U, Bornstein MM, Salvi GE, Buser D (December 2013). "Long-term outcomes of dental implants with a titanium plasma-sprayed surface: a 20-year prospective case series study in partially edentulous patients". Clinical Implant Dentistry and Related Research. 15 (6): 780–90. doi:10.1111/cid.12056. PMID 23506385."Dental Implants: Medical Review USA". 2021-08-18. Archived from the original on 2021-11-17. Retrieved 2021-11-17.
Misch CE (2007). Contemporary Implant Dentistry. St. Louis, Missouri: Mosby Elsevier. Elani HW, Starr JR, Da Silva JD, Gallucci GO (December 2018). "Trends in Dental Implant Use in the U.S., 1999-2016, and Projections to 2026". Journal of Dental Research. 97 (13): 1424–1430. doi:10.1177/0022034518792567. PMC 6854267. PMID 30075090.
Palmer, R. (2008). A clinical guide to implants in dentistry. Palmer, Paul J., Howe, Leslie C., British Dental Association. (2nd ed.). London: British Dental Association. ISBN 978-0-904588-92-7. OCLC 422757942.
Sinn DP, Bedrossian E, Vest AK (May 2011). "Craniofacial implant surgery". Oral and Maxillofacial Surgery Clinics of North America. 23 (2): 321–35, vi–vii. doi:10.1016/j.coms.2011.01.005. PMID 21492804.