What Is a Pediatric Dentist?
More than 50% of children have cavities in their primary teeth, making cavities the most common chronic disease in children.
Pediatric dentists specialize in diagnosing and treating dental problems in infants, children, and teenagers. Children develop their primary teeth within the first six months of life and start to lose them around age six or seven. Proper dental care is important to prevent decay and disease. Taking your child to see a pediatric dentist by age one ensures they'll have the proper screening and treatment to prevent future dental problems.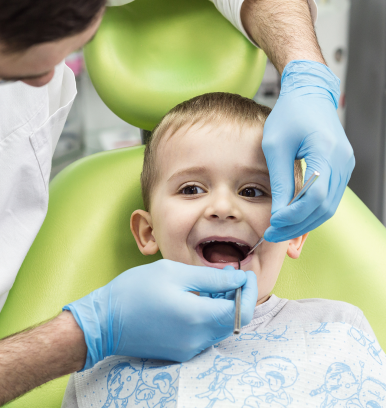 What Does a Pediatric Dentist Do?
Pediatric dentists provide comprehensive oral health care designed to meet the needs of growing children and teenagers. They provide:
Oral health exams

Teeth cleaning and fluoride treatments

Diagnosis and early treatment to straighten teeth or correct an improper bite

Cavity removal

Repair for dental injuries like fractured, displaced teeth

Gum disease management to prevent pediatric periodontal disease

Early detection of oral health conditions resulting from diabetes, asthma, hay fever, and ADHD
To become a pediatric dentist, one must complete a four-year bachelor's degree program, followed by four years of dental school. Once they have completed dental school, they must pass a series of dental certification exams in order to become licensed as a Doctor of Dental Surgery (DDS) or Doctor of Dental Medicine (DMD). Graduate students then enroll in a residency program, where they can choose to train in one or more of the following specialties:
Pediatric dentistry

Orthodontics

Endodontics

Periodontics

Preventative Care

Prosthetics

Oral Surgery

Restorative Dentistry
Reasons to See a Pediatric Dentist
Good oral health habits are important not just for your mouth, but for your overall health. Bacteria can cause disease, so it's important to brush and floss regularly to keep them under control. This is especially important for children, who are growing every day. Pediatric dentists can help teach parents and kids how to create good habits that will last a lifetime. They also diagnose and treat diseases in infants and children of all ages, and specialize in working with kids who have special health needs.
A pediatric dentist is a dentist that specializes in dental care for children. They are specially trained to work with children of all ages and to make dental treatments more comfortable for them. A pediatric dental office has special equipment and decorations that appeal to younger patients.
Doctors recommend taking your child to the dentist 6 months after their first tooth appears, or 12 months at the latest. The first visit typically lasts between 30 and 45 minutes, and the type of exam and treatment depends on a child's age.
During a routine oral health exam with a pediatric dentist, you can expect: A brief discussion of your child's oral health, brushing, and flossing habits. A complete examination to check the growth of the teeth, gums, jaws, bite, and surrounding oral tissues. Teeth polishing and cleaning to remove any plaque, tartar, or stains.
Pediatric dentists don't X-ray baby teeth unless they suspect tooth decay or need to examine the root of a baby tooth. It's best that young children do not have X-rays unless it's medically necessary.
References
1. "Pediatric Dentistry: Infancy Through Adolescence." Casamassimo, P. S., Fields, H. W., McTigue, D. J., Nowak, A. J., Eds. Elsevier, 2018.
2. "AAPD Guidelines: Oral Health Policies." American Academy of Pediatric Dentistry.
3. "Preventive Strategies for Oral Health in Infants and Young Children." American Academy of Pediatric Dentistry.
4. "Behavior Guidance for the Pediatric Dental Patient." American Academy of Pediatric Dentistry.
5. "The Use of Silver Diamine Fluoride in Pediatric Dentistry." Compendium of Continuing Education in Dentistry, 2018.
6. "Pediatric Oral Health Research and Policy Center." American Academy of Pediatric Dentistry.
7. "AAPD Consumer." American Academy of Pediatric Dentistry.
8. "The Role of the Pediatric Dentist in the Interdisciplinary Management of Children with Special Health Care Needs." Journal of Pediatric Dentistry, 2017.
9. "Early Childhood Caries: Prevalence, Risk Factors, and Prevention." Frontiers in Public Health, 2017.
10. Pediatric dentistry and orthodontics" Frontiers in Public Health, 2017.