We Provide The Best Orthodontist Who Can Provide Best-In-Class Oral Solutions.
What Is Orthodontics?
Orthodontics is a dentistry specialty that addresses facial irregularities through diagnosis, prevention, and treatment. The practice of orthodontics requires the use of braces, retainers, and other corrective devices to align teeth and jaws in order to improve a person's appearance and oral health.
What Does an Orthodontist Do?
An orthodontist is a subject matter expert in dental diagnosis, prevention, and treating oral issues. The word "orthodontics" comes from the Greek words "orthos," meaning "straight or proper," and "dontos," meaning "teeth."
The primary goal of an orthodontist is to correct dental and facial irregularities. This includes problems such as crowding of teeth, spacing between teeth, incorrect jaw position, and jaw joint disorders. Orthodontists use a variety of appliances, such as braces, plates, and headgear, to realign the teeth and jaws.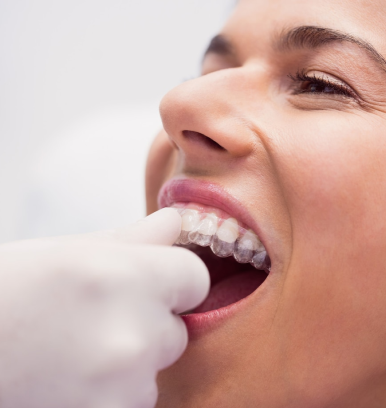 Types of Orthodontics
There are two main types of orthodontics: removable and fixed.
Removable appliances include:
Aligners

These are clear, plastic trays that fit over the teeth. They gently move the teeth into place over time.

Retainers

These are appliances that are worn after treatment to keep the teeth in their new position.
Fixed appliances include:
Braces

These are metal or ceramic brackets that are glued to the teeth. metal wires are then threaded through the brackets and tightened. The wires apply pressure to the teeth, gradually moving them into place.

Bonded retainers

These are metal or clear wires that are glued to the back of the teeth. They keep the teeth in place after treatment.
Orthodontics For Children
Most children will need some form of orthodontic treatment at some point in their lives. Orthodontic problems, such as crowding and spacing, often become more noticeable as children lose baby teeth and their permanent teeth start to come in. Early treatment can prevent these problems from getting worse and may even be necessary to ensure proper development of the jaws.
Adult Orthodontics
Adults can also benefit from orthodontic treatment. In fact, approximately one in five orthodontic patients is over the age of 18. With advances in technology, orthodontic treatment has become more comfortable and effective for adults.
Benefits of Orthodontics
Orthodontic treatment can improve your appearance and self-confidence. It can also help you to chew and speak more effectively. In some cases, it may even help to preserve your teeth and improve your oral health.
Aims of Orthodontic Treatment
Orthodontic treatment usually takes place over a period of several months or years. The aim of treatment is to:
To enrich appearance with better teeth and a better smile

To rectify issues associated with bite

To make your teeth and gums healthier
What to Expect at the Orthodontist
Your first visit to the orthodontist will usually involve a consultation. Dentulu helps you to connect with the best dentist in a few clicks. During this appointment, the orthodontist guides you through the oral issue through the video/ photo consultation.
You will be able to ask any questions you have about your oral condition, including what treatment options are most appropriate for you. The orthodontist may also recommend other specialists for you to consult with to get the most comprehensive care possible
After the consultation, if you and the orthodontist decide that treatment is necessary, they will send you a custom treatment plan, which will include the type of braces or aligners that are best for your smile goals. If you have any questions about our orthodontics services, please don't hesitate to contact the dentist using Dentulu. We are always happy to help!
Why prefer Dentulu?
Dentulu offers many advantages for patients seeking orthodontic treatment. We are a convenient, affordable, and trustworthy option for those in need of dental care. Our mobile application makes it easy to find a qualified orthodontist in your area, and our user-friendly booking system makes it simple to schedule an appointment. If you're ready to take your oral care to the next level, be sure to check out our other comprehensive services.
References
Papaspyridakos P, Mokti M, Chen CJ, Benic GI, Gallucci GO, Chronopoulos V (October 2014). "Implant and prosthodontic survival rates with implant fixed complete dental prostheses in the edentulous mandible after at least 5 years: a systematic review". Clinical Implant Dentistry and Related Research. 16 (5): 705–17. doi:10.1111/cid.12036. PMID 23311617.
Berglundh T, Persson L, Klinge B (2002). "A systematic review of the incidence of biological and technical complications in implant dentistry reported in prospective longitudinal studies of at least 5 years". Journal of Clinical Periodontology. 29 Suppl 3 (Suppl 3): 197–212, discussion 232–3. doi:10.1034/j.1600-051X.29.s3.12.x. PMID 12787220.
Pjetursson BE, Thoma D, Jung R, Zwahlen M, Zembic A (October 2012). "A systematic review of the survival and complication rates of implant-supported fixed dental prostheses (FDPs) after a mean observation period of at least 5 years". Clinical Oral Implants Research. 23 Suppl 6: 22–38. doi:10.1111/j.1600-0501.2012.02546.x. PMID 23062125.
Bozini T, Petridis H, Garefis K, Garefis P (2011). "A meta-analysis of prosthodontic complication rates of implant-supported fixed dental prostheses in edentulous patients after an observation period of at least 5 years". The International Journal of Oral & Maxillofacial Implants. 26 (2): 304–18. PMID 21483883.
Simonis P, Dufour T, Tenenbaum H (July 2010). "Long-term implant survival and success: a 10-16-year follow-up of non-submerged dental implants". Clinical Oral Implants Research. 21 (7): 772–7. doi:10.1111/j.1600-0501.2010.01912.x. PMID 20636731.
Chappuis V, Buser R, Brägger U, Bornstein MM, Salvi GE, Buser D (December 2013). "Long-term outcomes of dental implants with a titanium plasma-sprayed surface: a 20-year prospective case series study in partially edentulous patients". Clinical Implant Dentistry and Related Research. 15 (6): 780–90. doi:10.1111/cid.12056. PMID 23506385."Dental Implants: Medical Review USA". 2021-08-18. Archived from the original on 2021-11-17. Retrieved 2021-11-17.
Misch CE (2007). Contemporary Implant Dentistry. St. Louis, Missouri: Mosby Elsevier. Elani HW, Starr JR, Da Silva JD, Gallucci GO (December 2018). "Trends in Dental Implant Use in the U.S., 1999-2016, and Projections to 2026". Journal of Dental Research. 97 (13): 1424–1430. doi:10.1177/0022034518792567. PMC 6854267. PMID 30075090.
Palmer, R. (2008). A clinical guide to implants in dentistry. Palmer, Paul J., Howe, Leslie C., British Dental Association. (2nd ed.). London: British Dental Association. ISBN 978-0-904588-92-7. OCLC 422757942.
Sinn DP, Bedrossian E, Vest AK (May 2011). "Craniofacial implant surgery". Oral and Maxillofacial Surgery Clinics of North America. 23 (2): 321–35, vi–vii. doi:10.1016/j.coms.2011.01.005. PMID 21492804.