What is Teledentistry?
Teledentistry is the use of communication technology, including audio and video interaction, to remotely provide dental care services such as consultation, diagnosis, and patient education.
How Teledentistry Works
Teledentistry is a way for dentists to meet with their patients virtually in order to evaluate their conditions, present treatment plans, offer dental education, prescribe medication, and meet for pre-op and post-op appointments," Mahnaz Rashti, DDS, a periodontist in Beverly Hills, tells WebMD Connect to Care. This type of appointment assures that the patient can see their dentist in a timely manner without needing to physically be in the office," Rashti says. According to the American Dental Association, Teledentistry is usually provided in four different ways.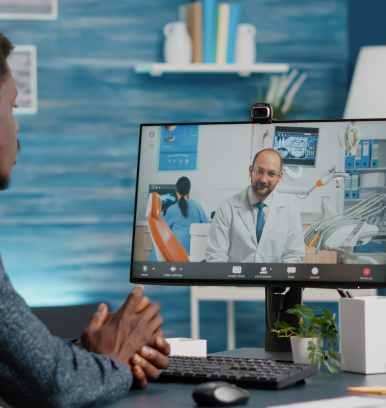 This type of dental consultation involves a live, two-way interaction between a patient and their dental health expert via video call.

Store and forward refers to the transfer of recorded health information like photographs, x-rays, and digital impressions to providers via a secured communication channel.

This type of monitoring allows your dental practitioner to track your oral health remotely by collecting data about your mouth and teeth and transmitting it electronically. This information can be used to help plan your future dental care.

Teledentistry that uses mobile devices like smartphones, tablets, computers, and personal digital assistants to provide dental health education to the public.
Why should people consider teledentistry for better oral health?
Improved access
One of the biggest advantages of teledentistry is that it can help to improve access to dental care in underserved or rural areas. According to the ADA, there are more than 3,500 designated dental health professional shortage areas in the United States. This means that there are not enough dentists to meet the needs of the population in these areas. Teledentistry can help to bridge this gap by providing dental care at a distance.
Increased convenience
Another advantage of teledentistry is that it can be used to provide dental care to patients who have transportation challenges or who are homebound. Teledentistry can also be used to provide dental care to patients who are in the hospital or other healthcare facility.
Reduced barriers
Teledentistry can also help to improve access to dental care by reducing barriers such as cost, time, and language. Teledentistry services are often more affordable than in-person dental care, and they can be accessed from anywhere at any time. Additionally, teledentistry can be used to provide dental care in multiple languages, which can be a barrier for many patients. Let's summarize the benefits of teledentistry Increased access to dental care: Teledentistry can help increase access to dental care for patients who live in rural or underserved areas.
Convenience
Teledentistry can be a convenient option for patients who have busy schedules or who have difficulty making it to a dental office.
Cost savings
Teledentistry can often be less expensive than traditional in-office dental care.
Improved oral health
Teledentistry can help improve oral health by providing patients with education and resources to help them better care for their teeth and gums.
How Dentulu is making lives easy!
Teledentistry apps are becoming increasingly popular as a way to improve access to dental care. There are a number of teledentistry apps available, and they can be used for a variety of dental services. Some teledentistry apps allow patients to schedule appointments, view their dental records, and receive education on oral health. Other teledentistry apps allow patients to submit photos of their teeth for a dental consultation.
Dentulu is the one app that offers the comprehensive solution for all teledentistry needs. It is a HIPPA compliant app that offers a secure way to connect with patients and provide dental care at a distance. Dentulu offers a variety of features, such as appointment scheduling, electronic dental records, and secure messaging. Dentulu is available for both iOS and Android devices. Download Dentulu!
References
1. Estai, M., & Bunt, S. (2018). Best-practice considerations for teledentistry during COVID-19: A systematic review. Journal of telemedicine and telecare, 26(11), 1-12.
2. Bashshur, R. L., Shannon, G. W., & Bashshur, N. (2016). The empirical evidence for telemedicine interventions in mental disorders. Telemedicine journal and e-health, 22(2), 87-113.
3. Jampani, N. D., & Nutalapati, R. (2019). Applications of teledentistry: A literature review and update. Journal of international society of preventive & community dentistry, 9(2), 105-111.
4. Benskin, S., & Lalla, R. V. (2021). Teledentistry: a practical guide for oral healthcare professionals. British Dental Journal, 231(6), 377-381.
5. McGrath, C., Bedi, R., & McMillan, A. (2001). Use of telemedicine in the management of dental care. Journal of telemedicine and telecare, 7(1), 15-20.
6. Ferrante, M., Nobile, C. G., Bilotta, T. W., Guerra, F., & Fabrizio, A. (2005). The effect of telemedicine on quality of care and satisfaction of the patient with the care received: A systematic review. European Journal of Public Health, 16(6), 683-691.
7. White, J. H., & Wexler, G. (2019). Teledentistry in rural and remote areas: Increasing access to care and improving outcomes. International Journal of Circumpolar Health, 78(1), 1609300.
8. Mariño, R., & Tonmukayakul, U. (2020). Telemedicine and teledentistry: A review of current progress and potential applications. The Journal of the American Dental Association, 151(10), 771-781.
9. Weinstein, R. S., Krupinski, E. A., & Doarn, C. R. (2014). Clinical examination component of telemedicine, telehealth, mHealth, and connected health medical practices. Medical Clinics, 98(5), 925-944.
10. Villa, A., Guerrero, A., Cemak, E., & Ochoa, M. D. (2020). Teledentistry and its potential use in diagnosis and management of oral conditions during COVID-19: a narrative review. Clinical and Experimental Dental Research, 6(6), 693-701.